Although I don't exercise at all (except cycling to my work), but I do love vintage sportswear. Those clothes are (most of the times) so beautiful and elegant.
Ik ben nou niet bepaald een sportief persoon (behalve dat ik naar mijn werk fiets), maar ik vind vintage sportkleding erg mooi. In tegenstelling tot de hedendaagse sportkleding. Tegenwoordig is
Because I found so many cute sport outfits on the worldwide web, I decided to make a serie about it.
I will start with one of my favourites: Vintage ice skating outfits!

Omdat ik zoveel mooie vintage sportkledij tegenkwam op het wereldwijde web, heb ik besloten er een reeks van te maken. Vandaag, start ik met een van mijn favoriete sportenues: Schaatstenues!


10s:
I don't think these are special ice skating outfits, but the pictures are so lovely, therefore I included them.
Dit zijn niet echte schaatstenues, maar de foto's zijn zo mooi dat ik ze alsnog heb toegevoegd.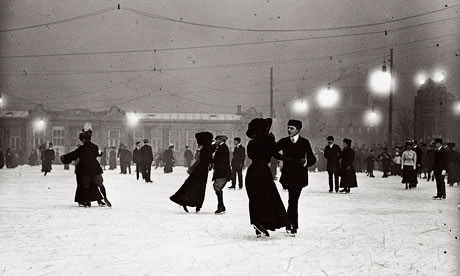 20s:
Actress Dorothy Sebastian in a cute dress
Actrice Dorothy Sebastian in een schattig jurkje
I love the ouftits of these figure skaters at the 1924 Winter Olympics:
Mooie outfits dragen deze kunstschaatsters op de Winter Spelen van 1924:
Love the matching jumpers and pleated skirt!
Leuk, de bijpassende truien van dit stel! En een superschattig geplooide rokje!
40s:
I have a knitting pattern (late 40s/early 50s) of an ice skating outfit concisting of a jumper, skirt, hat and gloves. At first I thought this would be a too big a knitting project for me. But you can split it up in different smaller projects which you can wear seperately until you finish everything. Maybe I will start someday.

Ik heb een breipatroon van een schaats outfit (late jaren 40, vroege jaren 50), bestaande uit een trui, rok, muts en wanten. In eerste instantie dacht ik dat zo'n goot project totaal niet haalbaar is. Zoveel tijd en geduld heb ik nooit om aan een dergelijk project te werken. Toen realiseerde ik me, dat je dit project heel makkelijk kan opsplitsen. Als je een onderdeel af hebt kun je het alvast aan, totdat alles compleet is. Dus misschien durf ik het toch een keer aan.
Here's another lovely iceskating outfit from the 40s. I love the heartshaped colourwork, the oversized cuffs and the hat.
Een andere mooie jaren 40 schaatsjurkje. Het ingebreide motief, de grote manchetten en het mutsje zijn geweldig.
The left girl on the pattern envelope is perfectly styled with her hat. I love the contrasting colour of the lining of the skirt and the embroidery on the green dress.
Het meisje links op het patronenhoesje is erg leuk gekleed met haar muts en jurkje. Leuk detail, is de contrasterende kleur van de binnenkant van het rokje. Het borduurwerk op het groene jurkje is erg mooi.
Although for children, I love the red skirt with white flowers or maybe snowflakes, combined with the white knitted jumper and red hat and gloves.
Het gaat eigenlijk om kinderkleding, maar de kleding van het meisje rechtsboven is superleuk. De rode rok met bloemen of misschien wel sneeuwvlokjes, gecombineerd met een kabeltrui, rode muts en dito handschoentjes.
The red dress is lovely! And I love black skirt with white turtle neck as well.
Het rode jurkje is geweldig! Maar ook het zwart/witte setje is erg leuk!
I love the black and white fabric dress left, but for me it;s a bit too short.
Het stofje is gewelidg, maar het jurkje is toch echt te kort voor mij.
It's hard to pick a favourite, all decades have their beauties, but I think I like the 40s ice skatings outfits best. Which one do you like best?
Het is moeilijk om een favoriet te kiezen, elk decennium heeft mooie exemplaren. Maar ik denk dat de jaren 40 outfits toch wel het mooist zijn. Wat is jouw favoriete outfit/periode?